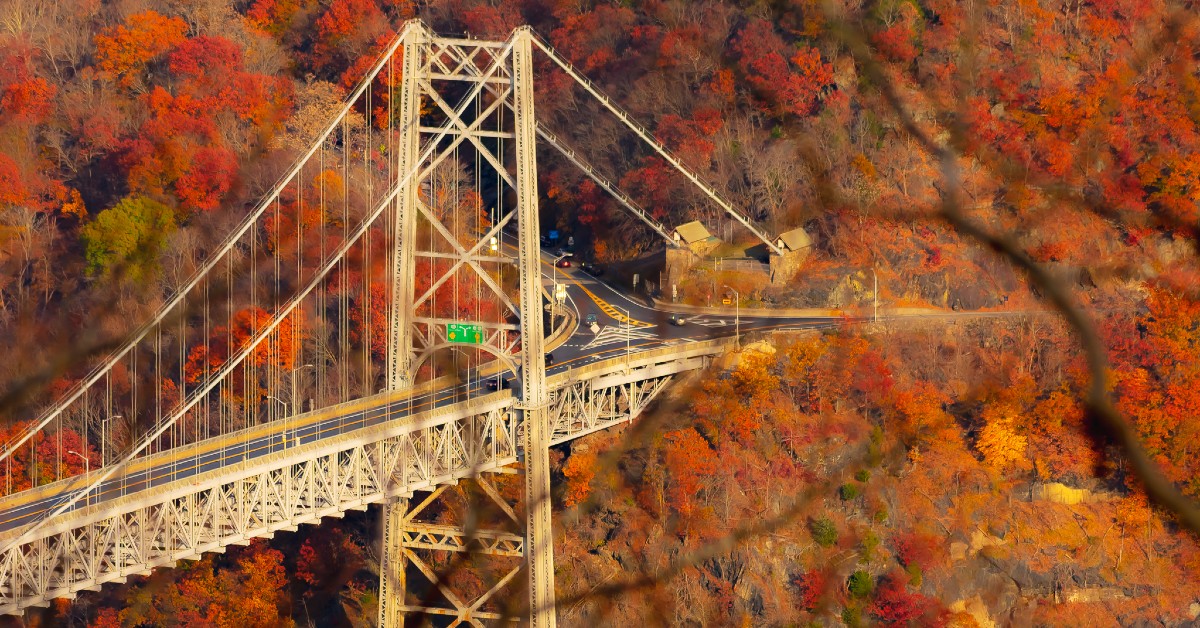 Looking for the best place to take in Upstate New York's world-famous fall foliage? We've collected some of the best spots for leaf peeping in the Capital Region and Hudson Valley, whether you want to take a leisurely drive, an invigorating hike, travel by train, or zip through the sky.

Scenic Drives
Route 9W up Storm King Mountain - Use the designated scenic overlook spots. Parking on the roadside is hazardous.
Hawk's Nest - Route 97 outside Port Jervis, New York, sits high above the Delaware River. The road is winding and should be driven with caution.
Route 20 and Route 88 – East/west routes
Route 9 Starting in Hyde Park - Starting in Hyde Park, Route 9 is the longest north-south highway in New York.

Leaf Peeping Adventure

Historic sites
Get a little history with your scenic views! These sites offer nature's beauty and our nation's history. You can learn more about these spots on the National Park Service website.

Take a Hike
Shuffling through the fragrant piles of fallen leaves is part of enjoying the fall foliage. Get up close and see the foliage from below at some of these popular hiking spots. There are so many great trails in the Capital Region and Hudson Valley for every hiker's skill level. You're bound to discover gorgeous paths, waterfalls, and views that all outdoor enthusiasts can enjoy.

Hudson River Bridges
Many bridges, from the Taconic State Parkway to the Palisades Interstate Parkway, have scenic byways that offer tremendous views of fall foliage along the river.

State Parks
You can get location, cost, sites of note, and other information about these parks and more on the NYS Parks, Recreation and Historic Preservation website.
Peebles Island State Park offers views of the Hudson and Mohawk Rivers, with miles of paths through the wooded landscape with observation decks along the edge.
Saratoga National Historical Park: The Battlefield Tour Road will bring you to multiple historic sites, and it's free and open to the public.
Thacher State Park: Enjoy incredible cliff views or take a gentle hike on the Indian Ladder Trail.
Saratoga Spa State Park: Explore great foliage views, historic buildings, and mineral springs.
Hudson Highlands State Park
Bear Mountain State Park
Harriman State Park
Related Article: Get ahead of your winter plans with these winter outdoor activities in the Hudson Valley.
Driving through the colorful, rolling hills of Upstate NY may be top-of-mind for you this season, but at MetzWood, we're focused on protecting you during every seasonal adventure. Whether it's auto or life insurance, we take the hassle out of the process so you can spend your time focusing on the moments that matter most. Start your proposal today!

Photo by F.A.Pfaffenbach, one of the winners of our MetzWood calendar photo contest.
Share This Article