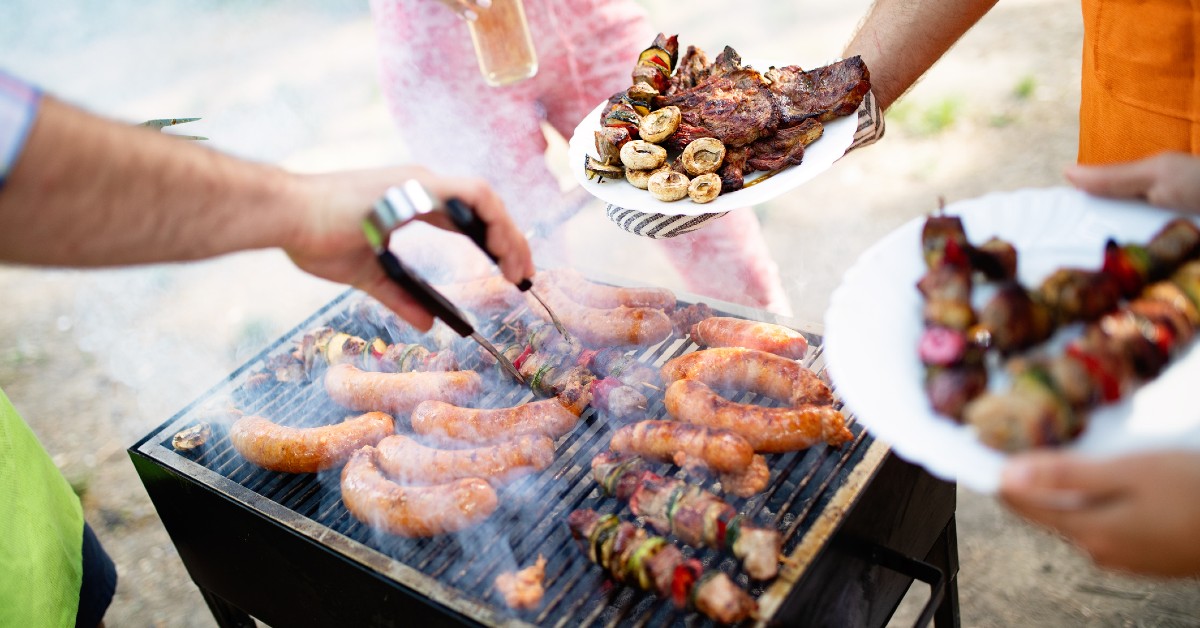 It's that time of year when family and friends are grilling, pools are open, and campfires are lit at night. Summer is here, and while you might be ready to host pool parties or break out the s'mores, is your backyard ready to safely accommodate the fun? This season comes with higher risks of falls, pesky bug bites, and storms. Here's how you can help keep your home and backyard safe this summer.
Avoid tripping hazards
Slippery pool decks, wood patios, and holes in your yard can lead to harsh falls, stubbed toes, or even broken bones. Decks, for example, can become slippery due to mildew, algae, or moss. The best way to prevent this is by regularly keeping it clean. You'll also want to make sure you're doing a thorough walkthrough of your front and back yard for any loose soil or holes that could cause tripping. Any issues identified in your yard should be addressed and fixed right away.
Follow grilling precautions
Summertime is a griller's paradise, but when done carelessly, grilling could be a major cause of burns or fires. Being cautious of grill placement is important to prevent a fire. According to the National Fire Protection Association, 27% of home grill fires started on an exterior balcony or open porch; another 27% started in a courtyard, terrace, or patio; and 8% began in the kitchen. You'll want to make sure your grill is at least 10 feet away from your house and is placed away from deck railings and out from under leaves and overhanging branches.
Here are some additional grilling safety tips:
Propane and charcoal BBQ grills should be only used outdoors

Children and pets should be at least 3 feet away from the grilling area

Keep your grill clean by removing grease buildup from the grates and trays below

Never leave your grill unattended when in use
Properly place your firepit
Nothing says summer nights more than hanging by the fire. But to keep you and your guests safe, you should make sure your firepit is placed 10 feet or more away from homes, trees, fences, or anything that could burn. It's suggested you only use dry, seasoned wood for your fire, which will burn cleaner overall.
Protect yourself against pests
Bug bites are probably the least glamorous thing about summer, and some stings can have more serious symptoms, especially if you're allergic. The best way to ward off pests is by wearing bug spray, using outdoor repellent devices, or pretreating your lawn with sprays. You'll also want to avoid wearing any sweet-smelling perfumes when you're spending the day outdoors. It's best to consult a pest control specialist if you want to reduce the number of pests entering your yard or home.
Prepare your home for storms
From floods, tornadoes, and lightning storms, summer weather can be pretty unpredictable. As a homeowner or renter, you'll want to stay on top of weather updates through an app and change plans accordingly if a storm is brewing. If there's a lightning storm predicted, for example, you'll want to stay indoors.
Summer storms can also easily knock down power lines, which could potentially fall in your yard. If that ever happens, do not go near the power lines. Down power lines can carry electric currents strong enough to cause serious injury or death. Call 911 immediately if you see a downed line.
Ensure your home is covered
No matter how many precautions you take, accidents still happen. That's why having insurance is an important piece of owning a home. But did you know having general liability included in your coverage protects you and your family if anyone else sustains injuries while on your property? If you haven't reviewed your homeowner's policy in a while, it's time to see if you have lapses in your coverage or are missing out on opportunities to save. Contact our advisors at MetzWood today to find the best coverage for you and your home.
Share this Article